Attorney Gabriel J. Waddell
Helping Clients with Bankruptcy in Fresno & Beyond
Attorney Gabe Waddell is a Certified Specialist in Bankruptcy Law, certified by the State Bar of California Board of Legal Specialization, and is a shareholder of Fear Waddell, P.C. He represents debtors and trustees.
He is admitted in the Eastern District of California, the Ninth Circuit Court of Appeals, and all courts of the State of California. Gabe specializes in representing consumer debtors in Chapters 7 and 13 and in bankruptcy-related litigation matters.
Gabe represents parties in the following types of bankruptcy:
Chapter 12
Related litigation
Education & Experience
Gabe received his law degree from the Oak Brook College of Law, with honors, and his B.A. from Thomas Edison State College, and has been representing parties in bankruptcy since 2009. Gabe is the past President of the Central California Bankruptcy Association, is on the Board of Directors of the California Bankruptcy Forum, and is a member of the Federal Bar Association and the Federalist Society.
Prior to joining Fear Waddell, P.C. Gabe worked with a wide variety of non-profit organizations, doing public policy, humanitarian, and legal advocacy work. Most recently, Gabe led an international humanitarian organization providing relief to widows and orphans in Asia, Africa, and the Middle East. He has traveled widely, and continues to be active in humanitarian work. More locally, Gabe serves on the Board of Directors of the Ronald McDonald House Charities of the Central Valley, Inc., working to provide a "home away from home" for families with critically ill children receiving treatment at Valley Children's Hospital.
Gabe and his wife Katie (also an attorney at Fear Waddell) live in the Madera Ranchos. When he's not at the office, you might find him searching for scenic views to photograph, reading a wide variety of literature, or cooking for friends.
Contact an Attorney You Can Trust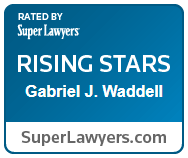 If you are in need of a legal advocate who can help you through bankruptcy, Fear Waddell, P.C. is here for you. With decades of experience and 1,000 cases handled, Fear Waddell, P.C. is well-prepared to help solve even the most complex financial issues. Gabe was also named a "Rising Star" by Super Lawyers beginning in 2018. To get a personalized consultation with Attorney Waddell, start by filling out a free consumer case evaluation form now.
Call (559) 418-3022 now to get in touch with a lawyer who can help.